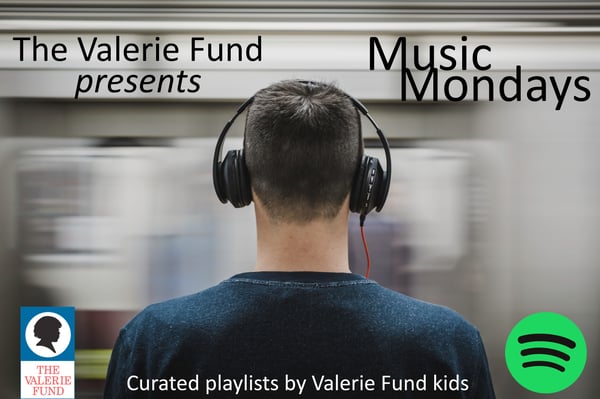 Many people use music to get through a bad time or to give them the power to fight back. Some people use music to put them in a good mood or to translate what they're feeling. Music Mondays is a recurring series featuring a playlist curated by a Valerie Fund kid, who in their own words, share what these songs mean to them.

Put on your headphones and join us for this month's Valerie Fund Music Mondays as we look at Bella's playlist, "Bella's Beats."
I was diagnosed with Gastro Intestinal Stromal Tumors (GIST) when I was 7 years old. GIST is a rare form of cancer that develops along the digestive tract. I was initially treated at the Valerie Fund Center in Morristown until Memorial Sloan Kettering in New York became my main care center. My family and I attend The Valerie Fund's Walk & 5K Run every year as Bella's Bunch to raise money for a cause that will always be close to our hearts. - Bella
Click here to see Bella's Bunch and help support their team!
Gold Forever by The Wanted
Every summer since I was 8 I have attended the Valerie Fund's Camp Happy Times (CHT). When I first decided to attend CHT, I had no clue it would come to be my second family and a lifelong support system. Spending a week with other past and present cancer patients transformed my perspective on my illness and its role in my life story. At camp, we can go from sharing our cancer stories to sharing laughs, s'mores, and craft supplies. On the last day of camp, everyone comes together one last time to say their goodbyes. Every single year, the song "Gold Forever" is played before the final send-off. This song is meaningful to me because the color gold represents childhood cancer awareness and the song's lyrics perfectly capture my CHT experience.
We're standing in a light that won't fade

Tomorrow's coming but this won't change

'Cause some days stay gold forever

The memory of being here with you

Is one I'm gonna take my life through

'Cause some days stay gold forever
These last six lines of "Gold Forever" particularly illuminate how timeless my CHT family and memories are.
Let it Be by The Beatles
I inherited my love for the Beatles through my father whom I love more than anyone in the world (except you, Mom. You're tied). For as long as I can remember, every car ride with my dad has been a new invitation to play "guess that Beatles song": rides to the grocery store, rides to my soccer games, rides to an MRI, rides to move me into my dorm. As I got older (and more advanced), sometimes the game would turn into "guess that Beatle." Most people could probably not care less about being able to tell a Lennon from a Harrison, but I do. The Beatles' music will always be meaningful to me because it represents my close relationship with my dad. I added "Let it Be" to my playlist because my parents have been by my side supporting me through every chapter of my life—being diagnosed with GIST, starting my first year at college, and all of the ups and downs in between.
Whisper words of wisdom, let it be
This lyric, which repeats throughout the song, reminds me of all of the times my parents have reassured and guided me over the years—in sickness and in health.
Vincerò by Annalisa
The word "vincerò" is Italian for "I will win." The spring of my freshman year, I found out I had new GIST tumors on my digestive tract and would need surgery. My MRI scans had been clear since elementary school so finding out this news was incredibly upsetting and frustrating. That summer, I had plans to visit my cousins in Italy for a month. I had been looking forward to practicing my Italian, spending time with my family, and flying out of the country alone for the first time. Unable to keep most of my meals down and awaiting a major operation, I set a goal for myself. I was determined to do anything and everything in my power to recover and make it to Italy. With the help of my incredible surgeon, nurses, family, and friends, that ended up being possible and I enjoyed one of the best summers of my life. I am eternally grateful for the support I had throughout that spring and the unforgettable month I spent with my family, so I decided to add an Italian song.
The lyrics "brillerò" and "vincerò," I will shine and I will win, reappear throughout the empowering fight song.
Pray by Justin Bieber
Quite candidly, making this playlist is the first time I've listened to this song in years. This song came out in 2010 when I was 9 years old and got GIST for the second time. At the time, I was a huge Justin Bieber fan. While a lot of my memories from the hospital blurred into one another over time, listening to this song while getting an IV is one that I distinctly remember. When I was first diagnosed with GIST, I was the kid nurses had to chase around and hold down to inject a single needle. Over time, I learned to calm myself down while getting an IV by listening to music and closing my eyes. I kept my habit of listening to music during injections long after I outgrew my fear of needles.
I close my eyes and I can see a brighter day

I close my eyes and pray
These two lyrics motivated me to remember my resilience and progress. This song kept me hopeful during scary and uncertain times.
Golden by Harry Styles
"Golden" is a really feel-good song. The lyrics "you're so golden" repeat alongside an upbeat rhythm for most of the song. I added it to my playlist because listening to it always puts me in a positive mood and because gold is the color of pediatric cancer awareness. Although my connection to this song is definitely not as deep as it is to a lot of the other ones on the list, sometimes it is enough for something to make your feel good. This song is catchy, it's fun, and I enjoy listening to it.
Photograph by Ed Sheeran
Another song that brings me back to Camp Happy Times is "Photograph" by Ed Sheeran. One of my first years at camp, a friend of mine dared me to sing something for the talent show. I have never been the singing type, but I have always been the daring type. I decided to take on the challenge. While I would normally be nervous or embarrassed singing in front of so many people, everyone at camp really is family. Despite my pitchy notes and lack of range, I felt comfortable and at home.
We keep this love in a photograph

We made these memories for ourselves

Where our eyes are never closing

Hearts are never broken

And time's forever frozen still
These lyrics above explain both why I picked this song for the talent show and why I added this song to my playlist. At camp, I've made some of my best memories and every year, I really do wish it were possible to freeze time. This song captures my nostalgia for camp when I'm not there and the meaningful connections I've made there.
In My Life by The Beatles
I really do love The Beatles so much one song would not suffice. I chose "In My Life" because it is one of the simplest and yet most beautiful songs. When my mom turned 50 and my dad was throwing her a party, he asked me to make a video full of pictures and videos. I had to choose a background song and this one immediately came to mind. The video was a huge hit which made me really happy. Over the years, especially when I was sick, my mom was willing to put anything and everything on hold to be there for me. While a small gesture, I was glad I could create something to celebrate her.
Though I know I'll never lose affection

For people and things that went before

I know I'll often stop and think about them

In my life I'll love you more
The lyrics above describe a love that transcends all others. That is exactly how I feel about my parents and how they have always treated me.
Chasing Cars by Snow Patrol
I chose this song for my playlist because it always reminds me of Grey's Anatomy and my last surgery. Freshman year, when I was in the hospital for an operation, I passed time by watching Grey's Anatomy. My parents always thought it was strange I would watch a hospital show while in the hospital myself, but it was something that made my days better. One thing that always stuck out to me on Grey's Anatomy was how there were galleries in all of the operating rooms. As someone who had been operated on, I always wondered if people were watching from above in the middle of my surgeries. I'm aware that this is a strange thought, but it was always, nevertheless, one I had. Before going under anesthesia for that most recent surgery, I was wheeled into the operating room. The only thing I remember about it was that there was a gallery. How cool—just like Grey's Anatomy! When I woke up from surgery, I was mostly out of it from the anesthesia as one typically is. I quickly noticed my nurse's scrubs said "Grey's Anatomy" on them and in my loopy state, I thought I was in the show. I insisted I was a character on the show and I know I gave a few laughs to my family members there with me. Turns out Grey's Anatomy actually has a brand of scrubs—who knew! "Chasing Cars" is a classic song that has been featured in many episodes so I added it to my playlist.
Fearless by Taylor Swift
I'm not the biggest Taylor Swift fan out there, but my sister has always liked her music. I added this song as a tribute to her, but also because all of my experiences have truly taught me to be fearless. I was always the kind of kid that loved rollercoasters and haunted houses, but having GIST taught me how to conquer fear in an entirely new way. From learning how to get over my fear of IVs to accepting the constant uncertainty of my health, I have become the most courageous version of myself through cancer. Once, my mom bought me a bracelet that says "fearless," and to this day I keep it with pride.
My Shot from the Hamilton Musical Soundtrack
I am a shameless history buff so naturally, I love the Hamilton soundtrack. A friend of mine recommended the biography Alexander Hamilton by Ron Chernow to me before I had ever even listened to the soundtrack. It is definitely one of the longest biographies I've ever read at nearly 1000 pages, but I remember being at the end of my seat the whole time. I read it on the couch, at the beach, by the pool, on the bus. I added "My Shot" because of how much I loved the biography, the soundtrack, and how badly I hope to go see the musical one day. The lyrics "I am not throwing away my shot" repeat throughout the song, making it a sort of fight song. This song's themes include perseverance and courage—themes I have learned about in my own life over the years.
Shake It Out by Florence and the Machine
Florence and the Machine is one of my favorite bands because the lead singer has such a unique sound. This song is one of their most popular and one of my favorites. The vocals are absolutely insane, the lyrics are carefully thought out, and the beat is uplifting. It's an empowering and timeless song.
Shake it out, shake it out, ooh whoa

And it's hard to dance with a devil on your back

So shake him off, oh whoa
As these lyrics show, the song is essentially about shaking off anything holding you back. I added it to my playlist because reminds me to power through and rise above difficult situations. It has been so important to me over the years to remember how to free myself of the negative thoughts, doubts, and limitations holding me back, especially due to my GIST diagnosis. Although I could never literally shake off an illness, I can choose the way I let it make me feel and what I decide to do with my life going forward.
Change by Lana Del Rey
Lana Del Rey is another one of my favorite artists. I had the pleasure of seeing her perform two years ago with my sister and it was easily my best concert experience.
Everytime that we run

We don't know what it's from

Now we finally slow down

We feel close to it

There's a change gonna come

I don't know where or when

But whenever it does

We'll be here for it
The lyrics above encompass everything that I love most about this song. It speaks to the fact that change is inevitable and despite attempts to run from it, it is not necessarily a bad thing. Having GIST and throughout life in general, I've encountered many situations of profound change. While change can be scary and difficult, this song is a reminder that it can also offer me growth and newfound hope.
---
If the embedded Spotify player above does not work, you can find the playlist on Spotify by clicking here.
Don't have a Spotify account? You can create one for free!
You can also get this playlist on YouTube by clicking here.
---
Are you a Valerie Fund kid (past or present) and interested in making a playlist to share?
Email Brett at bmurphy@thevaleriefund.org