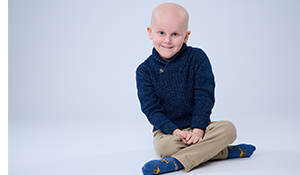 We love shining a spotlight on our amazing kids! Come meet nine of our Valerie Fund kids who will be appearing in this year's Annual Report.
Every one of our kids has a tremendous story to tell. Whether they were treated at a Valerie Fund Children's Center for cancer or receive routine support for a blood disorder, their experiences are ones no child should endure. The Valerie Fund Children's Centers and the team of caregivers are there to help them navigate this difficult time.
We recently invited some of these tremendous kids to a photoshoot for our upcoming annual report. Let's meet some of our kids as they (and their parents) talk about what life is like at a Valerie Fund Children's Center and what some favorite memories of The Valerie Fund are.
Anderson

T-Cell Acute Lymphoblastic Leukemia

Andersons' happy memory is after a particularly painful procedure. Ann S., social worker, literally went all over the hospital looking for a specific snack Anderson wanted. She really went above and beyond. Another memory Anderson often talks about is Kelly, child life specialist, making witches brew with him while he received chemo.

There truly are too many ways The Valerie Fund has helped my family to list! Kelly, the child life specialist, truly makes the clinic so much easier for Anderson So much so that on shorter treatment days, he asks to stay longer! Ann, the social worker, is absolutely amazing and is such a calming, problem-solving source for us as parents The holistic services, specifically massages, are Anderson's favorite. He takes advantage every time he is at clinic. The center itself is beautifully designed. It makes going in a lot nicer!

Gwen

Myelodysplastic Syndrome (MDS)

A memory that I have from The Valerie Fund Children's Center was when Nadine, a child life specialist, made me a calendar to keep track of important dates during my bone marrow transplant. The calendar brightened up my room and made it more personal. It became something I used to celebrate and cross off important milestones.

One of the many ways The Valerie Fund has helped my family was when I was first diagnosed. The staff and psychologists helped my family and I navigate a scary time and made us feel hopeful about what lie ahead.

Now that I have finished treatment, I am enjoying all of the things I missed out on during treatment- like cheering, going to school and hanging out with my friends.

Nuala

B-Call ALL

We especially remember Nuala being so proud of herself when she hit a milestone and how she couldn't wait to tell Miss Brie and her nurse, Tracy.

Brie, her child life specialist, always helped Nuala navigate Port Access and other difficult tasks. She provided joy, love, and support. We also loved having massages and help with school from the school liaison.

Nuala loves to dance. Now that she's in maintenance therapy she spends more time dancing and playing with her sister. She also loves drawing reading and spending time with family.
You can view even more photos of our amazing kids by CLICKING HERE.
---
---