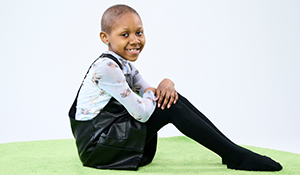 We love shining a spotlight on our amazing kids! Come meet nine of our Valerie Fund kids who will be appearing in this year's Annual Report.
Every one of our kids has a tremendous story to tell. Whether they were treated at a Valerie Fund Children's Center for cancer or receive routine support for a blood disorder, their experiences are ones no child should endure. The Valerie Fund Children's Centers and the team of caregivers are there to help them navigate this difficult time.
We recently invited some of these tremendous kids to a photoshoot for our upcoming annual report. Let's meet some of our kids as they (and their parents) talk about what life is like at a Valerie Fund Children's Center and what some favorite memories of The Valerie Fund are.
Shyann

Neuroblastoma

Shyann loves to visit Mrs. Shannon at The Valerie Fund Center. The Valerie Fund has helped me and Shyann out so much, I can't express the feeling. Shyann loves to play with her sister and brother and eat a lot!

Colin

Acute Lymphoblastic Leukemia

A memory I have from Camp Happy Times is going down to the dock every morning at the crack of dawn to go fishing with my friends. The Valerie Fund has helped me and my family get through some of the toughest parts of my treatment which helped us so much.

I am currently attending Montclair State as a TV and Film major looking to go into sports broadcasting someday.

Liam

Neuroblastoma

Liam's favorite memory from Camp Happy Times is the welcome dinner during his first year of camp. Liam is enjoying 3rd grade! He loves to read, play video games, and is obsessed with Harry Potter!
You can view even more photos of our amazing kids by CLICKING HERE.
---
---