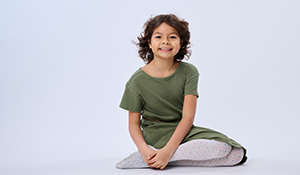 We love shining a spotlight on our amazing kids! Come meet nine of our Valerie Fund kids who will be appearing in this year's Annual Report.
Every one of our kids has a tremendous story to tell. Whether they were treated at a Valerie Fund Children's Center for cancer or receive routine support for a blood disorder, their experiences are ones no child should endure. The Valerie Fund Children's Centers and the team of caregivers are there to help them navigate this difficult time.
We recently invited some of these tremendous kids to a photoshoot for our upcoming annual report. Let's meet some of our kids as they (and their parents) talk about what life is like at a Valerie Fund Children's Center and what some favorite memories of The Valerie Fund are.
Connor

Acute Lymphoblastic Leukemia

Connor was diagnosed at age 17 with Pre-B Acute Lymphoblastic Leukemia. When he found a lump on his neck, he went straight to his doctor, who immediately referred him to Morristown Valerie Fund Center. The staff at The Valerie Fund, especially the Education Liaison, were able to accommodate his treatment while making sure he could still manage his school needs. This was essential to his mental health and recovery because it allowed him to keep his cancer diagnosis from his peers at school so he didn't have to constantly talk about cancer.

Maria

Lymphoma Non-Hodgkin's

I was more than happy when I was able to meet my donors from my scholarship and able to meet more Valerie Fund kids and hear their stories.

The Valerie Fund has helped me with my education. Honestly, I don't think I would have been able to study without their help. I am extremely grateful for that. I'm currently in remission, I am studying at Montclair State University and I'm majoring in psychology and hope to continue my education and get my master's degree in Art Therapy.

Zoe

ALL

One of our recent memories from The Valerie Fund was Christmas. My daughter was the happiest girl ever. Thanks to The Valerie Fund she forgot for a little how hard her treatment had been.

The Valerie Fund helps us a lot. Because of COVID, she still hasn't recovered in full. We struggled with some utility bills and The Valerie Fund was there to support us
You can view even more photos of our amazing kids by CLICKING HERE.
---
---