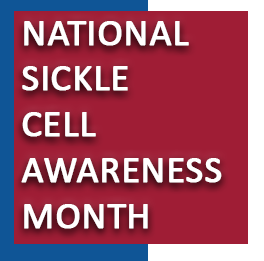 September is National Sickle Cell Disease Awareness Month and we would like to share the stories of four truly astonishing children and young adults. They are all Valerie Fund kids and have been treated at a Valerie Fund Children's Center near them. Please read their stories and learn why The Valerie Fund is proud of its role supporting children fighting complex medical problems.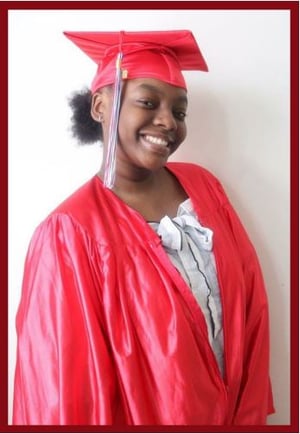 Meet Victoria. Victoria is treated at The Valerie Fund Children's Center at Newark Beth Israel Medical Center and this is how she describes a recent sickle cell crisis: "Having a sickle cell crisis is like having an unplanned tsunami that keeps coming. You know how hard it's going to hit so you tell your body to prepare for it because you know it's gonna come … but you're never ready."
The Valerie Fund's Sickle Cell Program at Newark Beth Israel Medical Center is part of a team that treats more patients than any other hospital in New Jersey and is recognized as a Comprehensive Sickle Cell Center. Last year, children living with sickle cell and other blood disorders came to The Valerie Fund Children's Centers for more than 11,000 visits. Our patients receive world-class care in a state-of-the-art facility where specialists in hematology provide ongoing disease management and preventive therapies.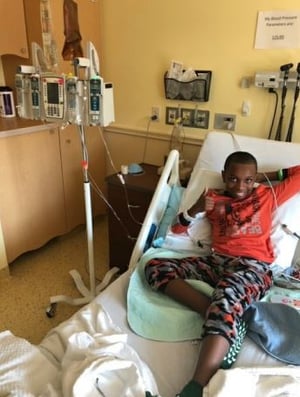 Before. After. Cured! Meet Ryan, a former Valerie Fund patient, and successful stem cell transplant recipient. He'd like the world to know about both of his realities – the "before" and the "after" of living with Sickle Cell Disease.
His parents describe Ryan as a happy, outgoing, energetic child, but symptoms and complications from multiple sickle cell crises sent him to the hospital on many occasions. During his first crisis, at age five, the pain was so bad he was on a ventilator for a week.
Ryan's family is grateful for the compassionate care their son and brother have received at The Valerie Fund Children's Center. About one in five people with Sickle Cell Disease have a healthy sibling donor who is a perfect match. Ryan's 27-year-old brother, Edward, was a 100% match. Since the transplant, Ryan's mom, Robin, shares, "A complete load has been lifted off my shoulders, mentally, physically and spiritually. My anxiety is so much better knowing that Ryan has been cured." The Valerie Fund will always be there for Ryan and his family. When he is ready to attend college, Ryan will have the opportunity to apply for a Valerie Fund Scholarship. The program has invested millions of dollars in current and former patients like Ryan whose futures are celebrated and never be taken for granted.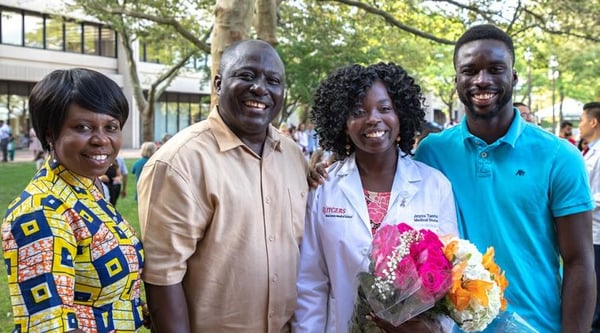 Last year, Joyce's family proudly watched as she received her white coat at a symbolic ceremony welcoming members of the Rutgers University Medical School Class of 2023. Joyce's four-year journey to becoming a physician had officially begun.
The Valerie Fund supports children and young adults like Joyce who have overcome medical challenges and have found the resilience to move forward, stronger and more resourceful from these difficult experiences. One day, in the not so distant future, Joyce's own patients will benefit from her extraordinary care and compassion.
Joyce has lived with Sickle Cell Disease, a complex condition that can present dangerous complications, her whole life. She has been on the receiving end of some of the best medical and psychosocial healthcare in New Jersey. Joyce was treated at The Valerie Fund Children's Centers at St. Barnabas Medical Center and at Newark Beth Israel, a designated Comprehensive Sickle Cell Center.
"The love and care I received there inspired me to become a doctor. The Valerie Fund will always be a second family to me and I am so grateful for the many opportunities that have come my way because of it."
The Valerie Fund Scholarship Program awarded 94 current and former Valerie Fund patients over $350,000 to help cover the cost of their post-secondary education in 2020-2021. Joyce, a six-time recipient is excited to being another step closer to becoming a member of the medical community.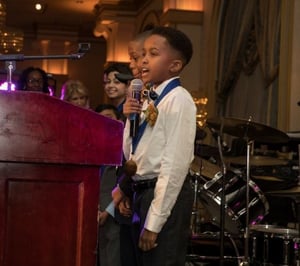 Twelve-year-old Myles loves science and math and hopes to pursue a career that involves identifying and analyzing evidence at crime scenes. Sadly, Myles has had to deal with his own Public Enemy #1 living with Sickle Cell Disease since birth. The disease has robbed Myles of a normal childhood, burdened him with severe pain during crises, and puts him at risk for organ damage.
Myles is treated at St. Joseph's Children's Hospital in Paterson, one of seven Valerie Fund Children's Centers supporting 6,000 brave kids like Myles with a blood disorder or cancer. The Valerie Fund's core services provide emotional, practical and financial support complementing state-of-the-art medical treatment close to home.
Four hundred patrons met Myles at last year's Valerie Fund Thanksgiving Ball Gala. He is as comfortable with a microphone in his hand as he is meeting with advocates from biopharmaceutical companies. Their commitment to developing life-changing treatments has inspired Myles to do anything he can to help find a cure for SCD - including raising awareness and money at The Valerie Fund's annual fundraisers.
Myles loves to write short stories and draw. He explains the disease that has caused so much havoc in his young life simply. "My cells are shaped like bananas. They stick together in one spot." Those misshapen red blood cells cause blockages that disrupt oxygen flow through small blood vessels. A cycle of hopelessness can follow each flare-up: acute pain, hospital stays, and missed school.
"If I could take it, I would." Myles was born with the inherited blood disorder and his mother Sonya feels guilty watching him go through all these things. She considers The Valerie Fund their extended family. "The love, a simple hug helps me so much."
Myles says, "The Valerie Fund has taught me how to take my medicine and I've learned to drink lots of water so I can keep my blood flowing through my body."
Mother and son are eager to give back because Sonya says, "I don't know where I'd be without The Valerie Fund."
To learn more about The Valerie Fund and all the ways they ease the journey of children battling life-threatening diseases, please visit www.thevaleriefund.org.

---
---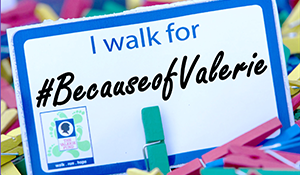 Register today for the The Virtual Valerie Fund Walk & JAG-ONE Physical Therapy 5K!
Click here for more information or to register today!
---
During this difficult time of the COVID-19 pandemic, The Valerie Fund remains dedicated to the children battling cancer and blood disorders. We are in this together and continue to treat every child who needs our help.
If you would like to help, you can click here to donate.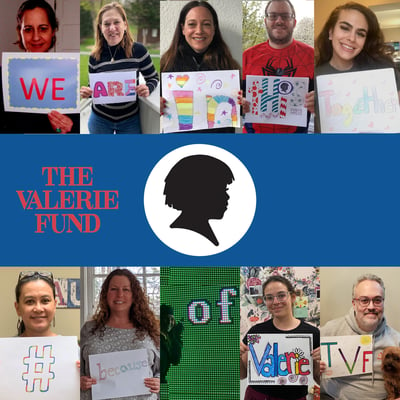 We are in this together. #BecauseofValerie