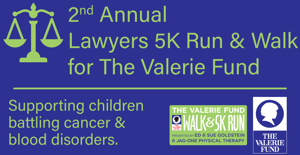 In early 2021, The Valerie Fund was contacted by a local attorney who wanted to do more to help kids in this area. What happened next became an inspiration to everyone involved and helped Valerie Fund families continue to get the support they needed.
After reaching out to The Valerie Fund to try and do more to help our kids and families, a group of lawyers in North Jersey decided that donating money or volunteering just wasn't enough. They wanted to take more action and make an even larger impact on the families dealing with pediatric cancer and blood disorders. From this desire to make a positive and lasting impact was born the 1st Annual lawyers 5K Run & Walk for The Valerie Fund.
Held alongside The Valerie Fund Walk & 5K in Verona Park in September of 2021, the Lawyers 5K Run & Walk brought together lawyers from around the state on a gorgeous Saturday morning. They had all raised money, spread the word, and gotten hyped for a morning in the park and they didn't disappoint.
The 1st Annual Lawyers 5K Run & Walk participants with CBS's John Elliott in 2021
The event's first year raised an amazing $25,000 to support the children and families of The Valerie Fund. Dozens of lawyers and their families came to Verona Park read to run, walk, and enjoy the festivities of the day. On top of the funds raised for our amazing kids and families, the day proved to be a great day for the teams and legal community to come together outside of the courtroom, boardroom, or Zoom calls.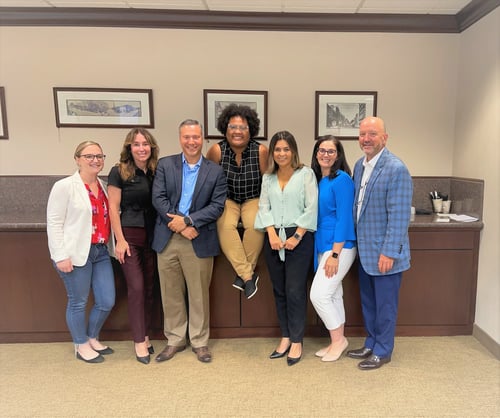 The Porzio Team headed by Chris Mazza with TVF patient Sierra in the middle
Our executive committee is grateful for the opportunity to bring members and affiliates of the legal community together to help children with cancer and blood disorders through the Lawyers Run for The Valerie Fund. We are deeply appreciative of everyone who helped make our inaugural year a success and look forward to building on our great momentum in Year 2, this September.

- Susan Wernick
This year, the group is looking to expand its support and raise even more money and awareness of The Valerie Fund. They've already gotten several teams to register for the event but are always looking for more of their community to join in. If you are a part of the lawyer community in NJ and want to get in on the fun, you can join the event by going to https://www.thevaleriefund.org/Walk2022/2nd-annual-nj-lawyers-run-walk-for-valerie-fund
| | |
| --- | --- |
| | |
| | |
Check out the 1st Annual Lawyers 5K Run & Walk for The Valerie Fund on TV!
Thank you to the NJ Lawyers 5K Run & Walk Leadership Committee:
Jennifer Felix
Barry Mandelbaum, Esq.
Christopher Mazza, Esq.
Shantel Ricks
Eric Rivera
Matt Savare, Esq.
Susan Wernick
---
---