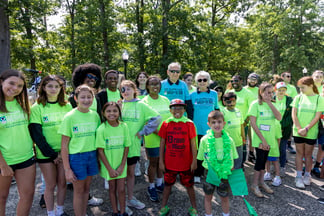 The Valerie Fund Walk & 5K returned to the spring, as we came together with our Valerie Fund Community on June 10th. This is one of our favorite days of the year, as we see our patients and their families come together with their supporters to celebrate and honor their strength and courage. The springtime weather in Verona Park made it the perfect setting for this magical event.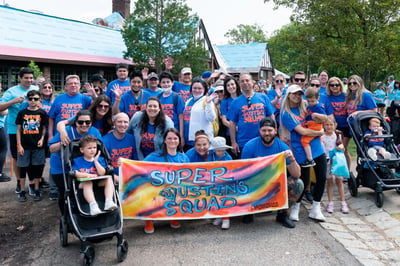 Over two thousand people joined together in the park for the Walk & 5K. Everywhere we turned, we were met with smiling faces, happy families and kids running and playing. The band, Stiff Joints, entertained the crowd from the main stage. Once again, Gallant Entertainment generously provided the renowned New York Giants Drum Line for a vibrant performance, ensuring the walkers had an energetic send off. Walkers and runners enjoyed refreshments from Dunkin' and Jersey Mike's Subs. Crowd pleasers also included delicious freshly-prepared food from Eppes Essen of Livingston.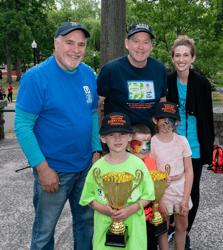 The efforts of our Walk & Run captains and their teams helped ensure the day's success, along with the support of our generous sponsors, and amazing volunteers. Over $925,000 was raised in support of our eight outpatient facilities funding educational advocacy and scholarship, social work and psychological testing and counseling, child life resources, and specialists in integrative medicine and palliative care.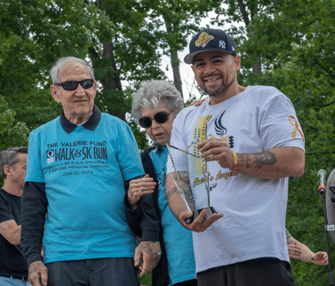 Highlights from the stage include Team Trey winning both Largest Walk Team and Most Raised awards. Super Justin's Squad squeaked in second place with their walk team numbers. Team Georgia won hearts and minds, as well as the Most Team Spirit Award and Team Justin Rocks won Most Creative Banner. Ethan's Ninja warriors won The Small But Mighty Team recognition while Alberto's Angels deservedly were awarded the Fifth Annual Ed and Sue Goldstein Award. Angels are everywhere.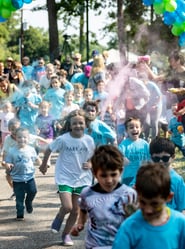 There are a number of sponsors who helped make the event a success but we always want to give a special shout-out to JAG-ONE Physical Therapy for their exclusive sponsorship of the 5K run. The new family games area sponsored by Schumacher Chevrolet was a big hit with the kids, as was the Color Run Kid sprint, sponsored by The Learning Experience.
Check out the awesome photos from the day by clicking on the photo gallery below, and don't miss our great event recap video.
If you haven't had a chance to donate yet, it's not too late! You can CLICK HERE to make your Walk donation today!